Makeup Palettes that inspire! When mankind disobeyed God they left the 'Garden Of Eden'. Being a sinner now, they became weak to things they knew nothing about! In the 7th generation from Adam, 200 angels came down from heaven and seduced women into fornication and promiscuity. These Angels also taught mankind charms and spells and showed them the cutting of roots and trees. In addition…
"They taught men how to make swords and daggers and shields, and breastplates." And…also, "how to make gold into coins, and they showed them the fabrication of mirrors, the art of making bracelets and ornaments and the art of making up the eye, and of beautifying the eyelids and the most precious of stones and all kind of colored dye. And the world was changed!"
We have your #holidaygiftguide ready for all the different kinds of make-up lovers in your life. See the full collection here: 1.Girlboss2.Femme Fatale3.Jet Setter4.The MUA Addict5.The MinimalistWhich one are you?

Posted by RealHer Makeup on Thursday, November 9, 2017
From the copper and lead ore that the ancient Egyptians used to create the world's first cosmetics to the scientifically advanced products of today that can do everything from hide pores, smooth complexions, and turn the pale green of your eyes a vivid shade of emerald, makeup has been an important part of humankind for thousands of years. Over the centuries, women used burnt matches to darken their eyes, berries to stain their lips and young boys' urine to fade their freckles. They even swallowed ox blood in some misguided attempt to improve their complexions.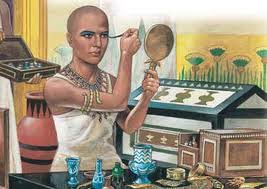 Women throughout history put their health at risk with many of their homemade cosmetics. In some cultures, for example, women used arsenic, lead, mercury, and even leeches to give themselves the pale appearance deemed beautiful in the old days.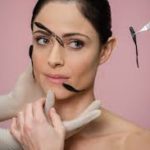 Thankfully, we've come a long way from the days of using toxic and deadly mixtures to enhance our looks.
   
I love myself — 
just the way I am

.
Our mission is to inspire and bring out the best in the modern woman: to know her worth, to feel proud of her individuality, to love each and every one of her flaws, and to not fear who she really is.
Bringing back to beauty *sort of* Optical illusion double eyes tonight!!! So not only will u learn a pretty eye makeup look, but how to paint eyes on your face as well=win/win😉Also ANNOUNCING my GIVEAWAY with @simpleglamgirls tonight Giveaway runs till November 30th and all you have to do is follow 3 simple steps😊 follow this link https://simpleglamgirls.com/pages/beautyslay3r-giveawayAlso they were gracious enough to give me a code for all of you 🤗 : BeautySlay3rAnddddd….theres more, if you purchase the No-Fuss Electric brush set, you get a Pink Jewels brush set for FREE !!! So excited and I hope you all participate!!! Remember to share the video as part of the GIVEAWAY let's aim for 500 shares we can do that!!!!

Posted by The official Erica Harkins BeautySlay3r on Tuesday, November 14, 2017