Stamps are are not the only craft at Stamp Academy… Instead, it is the place to learn new and exciting ideas for  your Paper Crafting supplies!  All classes have full VIDEO and PDF instruction.  The Project Parades even have a complete supply list of products used.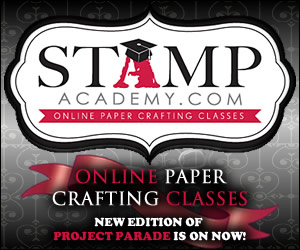 Whether you're into Rubber Stamping, Techniques, Scrapbooking, or Paper Crafting – we have lots of options for you to choose from so take a look around and Get Started today!
No more spending hours surfing the internet looking for unique projects with high quality videos.
Cards, 3D, Scrapbook Pages/Booklets – Our Designers are constantly creating new and interesting projects for you!
Take classes on YOUR schedule, in the comfort of your home – any time, day or night – even in your pajamas. (We promise, we won't tell!)
Watch them over and over, pause and rewind as many times as you'd like.
Videos and PDFs break everything down so re-creating them is relaxing, fun, and most of all – STRESS FREE!
A premier site for online paper crafting classes! High Quality Videos and Downloadable PDF's of unique Paper Crafting Projects. Therefore…
Stamp Academy is an Oasis for you to go to when you finally manage to carve out a little time for yourself!
Hand crafting gifts has never been easier!  You're going to LOVE the freedom Stamp Academy provides!
If you have any questions about any of the classes, drop us an email at [email protected]  We're here for you!
Enjoy!
Here's what some of our Members say about 
Stamp Academy:
I am enjoying Stamp Academy so much. – Peggy
I loooooooooooooooooooove stamp academy!! Your instructions are fabulous, and you are right on the money with fresh new ideas that are out there! Thanks for all you do! – Gloria
I am enjoying my class– very much.  I've made 2 peojects so far, & hope to do a few more before Christmas.  Love your ideas and the class videos. All very inspiring!. Thank you !! – Lidia C
I love your projects and am looking forward to learning from your group. This is my favorite web site.
-Gay
"You've done it again, made a project that I need…" – Heather
"Yesterday, I signed up for the Spring Project Parade.  I was so impressed with the projects and the videos that I want to convert to the Gold Level to get everything!" – RP
"I'm a happy little camper now…" – C
"What an awesome idea, can't wait to try it." – HLH
Really like how you teach the cards.  Great videos. Thanks.  – Judy
Stamps Academy Enrollment is Currently CLOSED.  If you'd like to be notified when enrollment reopens, CLICK HERE.  (You will not receive promotional emails only notification for opening enrollment.)